Charming Bed & Breakfast in the Heart of the Beaufort Historic District
Ann Street Inn
B&B in Historic Beaufort, North Carolina
3 Guest Rooms, each with a Private Bath
Includes Full, Hot Gourmet Breakfast
B&B in Historic Downtown Beaufort, NC
3 Guest Rooms, each with a Private Bath
Includes Full, Hot Gourmet Breakfast
About the Inn – A Historic Beaufort, NC B&B
Welcome to the Ann Street Inn
Surrounded by the charm of Beaufort, one of the oldest towns in North Carolina, the Ann Street Inn bed & breakfast is housed in a beautiful, historic two story home that was built in 1832. The Inn is decorated with heirlooms, art and antiques that will transport you back to a time of quiet grace and simple pleasures. Ideally situated on a quiet, tree-lined street in the heart of Beaufort's historic district, the Inn is a haven of comfort and romance.
Each guest room has a private bath and is furnished and decorated in a different romantic theme; two of the rooms have whirlpool tubs. Each room includes luxury bath amenities – just bring your toothbrush! Cozy, yet elegant, living and dining areas complete your home away from home.
I have been the proprietor of the Ann Street Inn for over 16 years now. During that time, I've met a lot of wonderful people, but none as wonderful as my husband John… we were just married over New Year's 2020!
As the Inn has only three guest rooms, you can be assured that your needs and requests, be they restaurant recommendations or dietary requirements, will be personally handled.
I look forward to seeing y'all soon!
— Donna
Owner, Ann Street Inn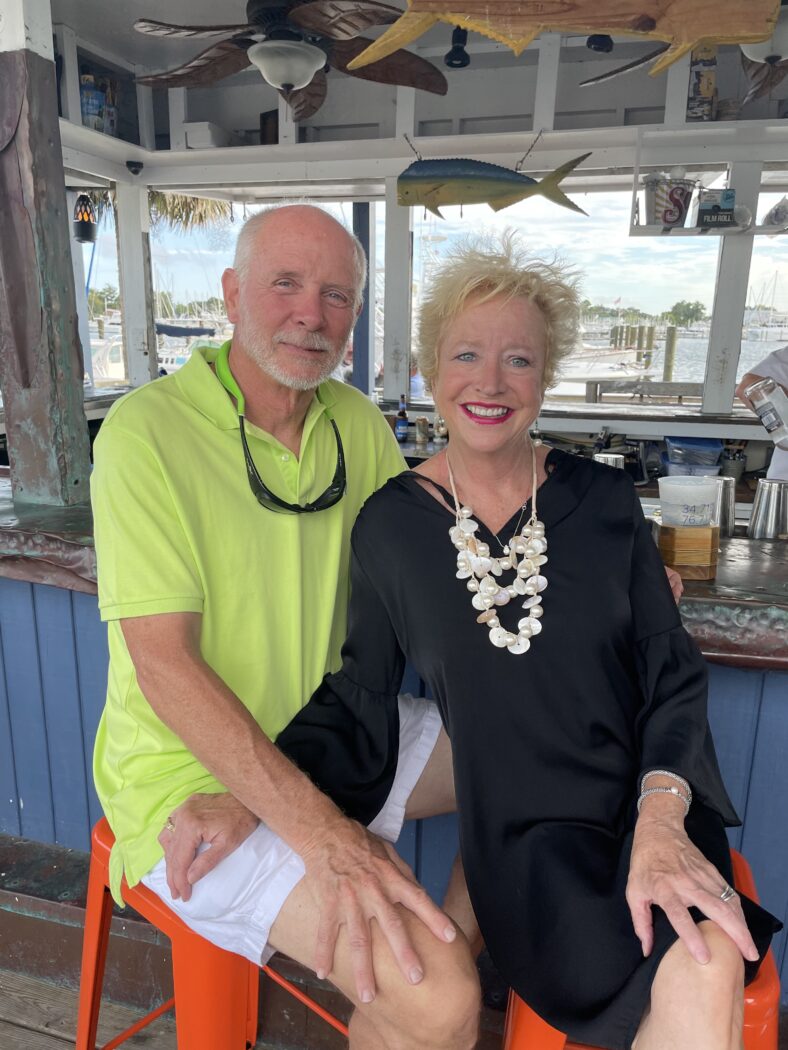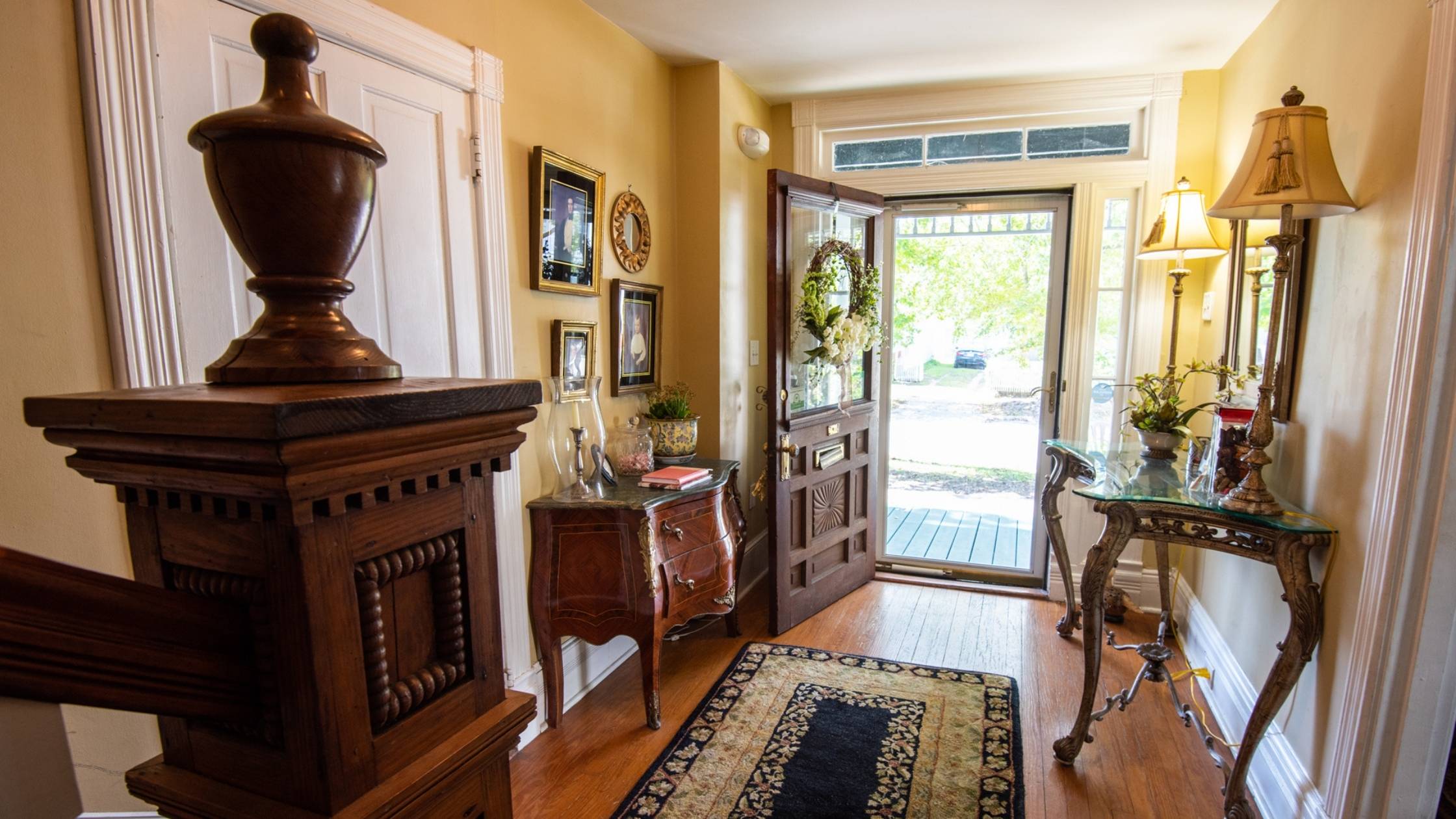 Explore the Rooms
With just three lovingly decorated guest rooms, the Ann Street Inn is the very definition of cozy hospitality.
The Queen Ann is our first floor suite. The Duke of Beaufort and Priscilla Potter rooms are on the second floor. View them from the links below and decide which one strikes your fancy. When you're ready, reserve your room and we'll get things ready for you.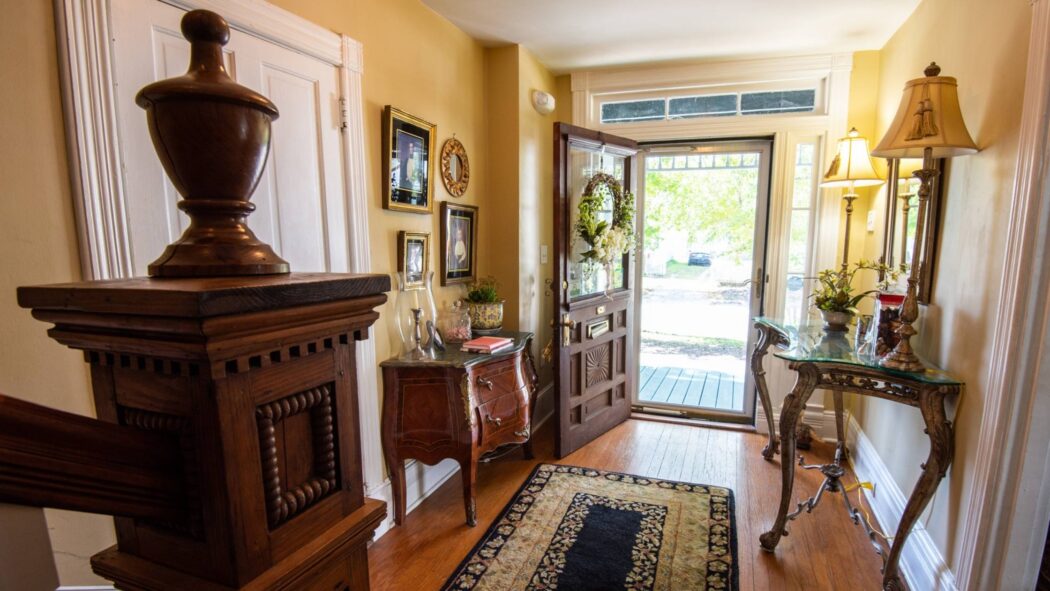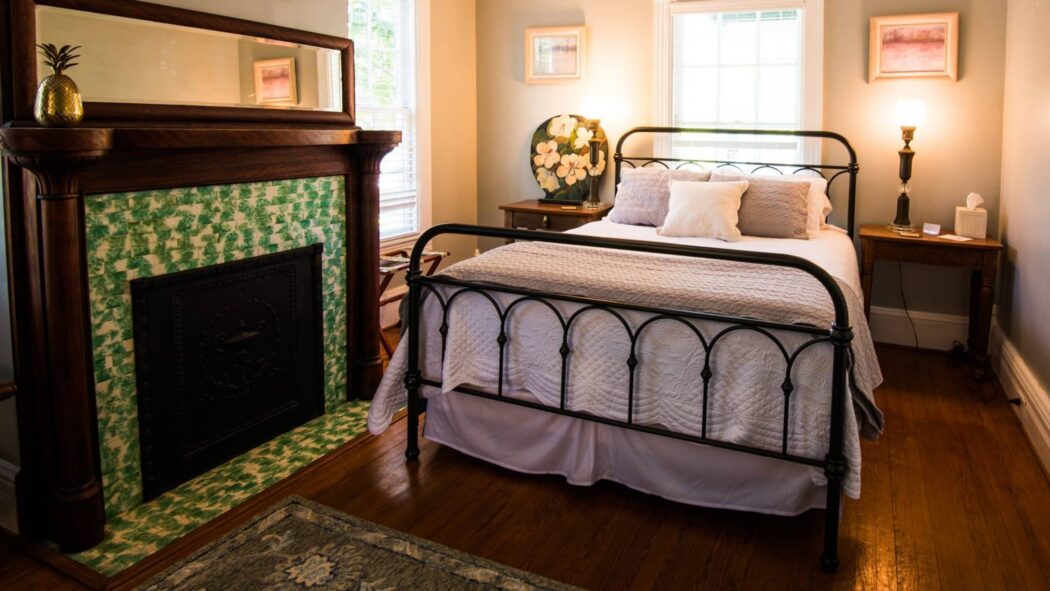 The Queen Ann
The Queen Ann Room is decorated in rich gold colors and luxurious fabrics. The private bath features a Jacuzzi tub, period pedestal sink and tiled shower. From the Jacuzzi tub, guests can relax with a bottle of wine and soak in the breath taking view of the award winning garden.
Price Per Night (excludes tax)
$250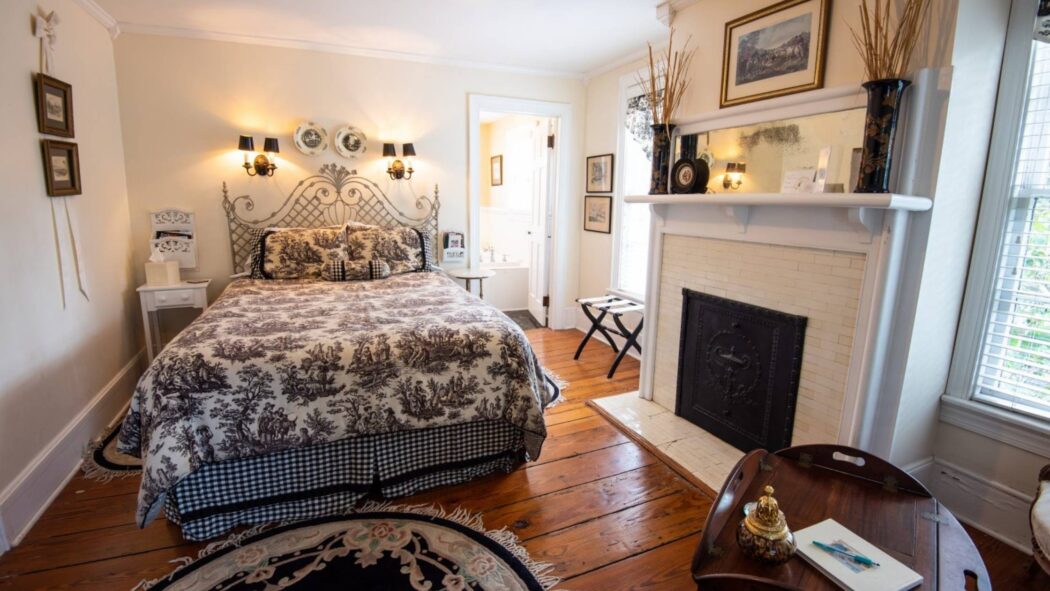 The Duke of Beaufort
The Duke Of Beaufort Room is decorated in black and white French Toile. This room is located on the second floor and has private access to the 2nd floor rocking porch. The bath has corner shower and a Jacuzzi bath nestled in the corner overlooking the exquisite gardens.
Price Per Night (excludes tax)
$250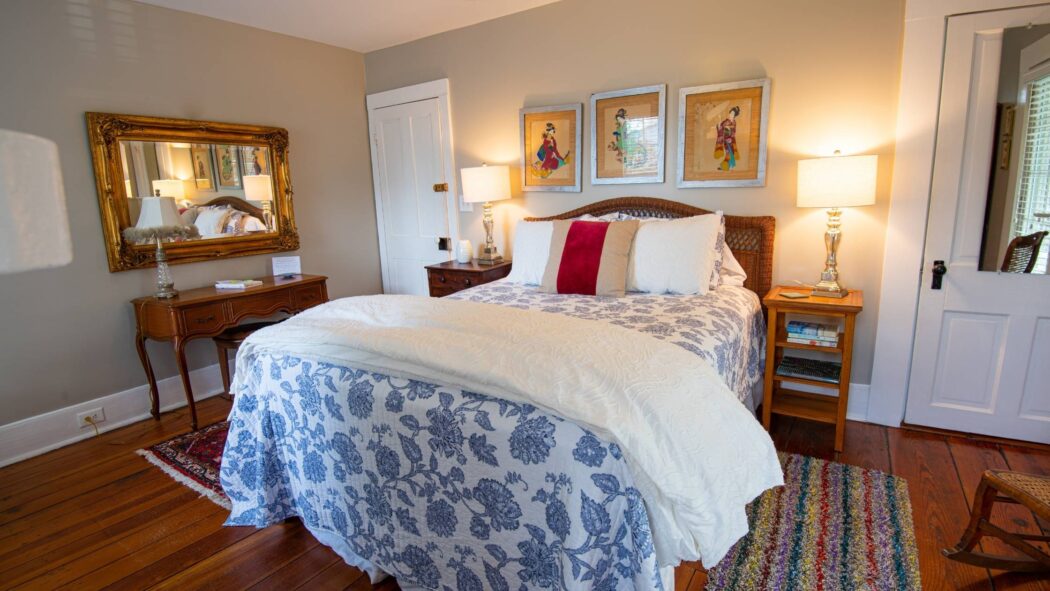 The Priscilla Potter
The Priscilla Potter Room is decorated green with floral accents. This room is located on the second floor and has private access to the 2nd floor rocking porch. The room has a private luxury bath. The bath also features a corner shower and period looking pedestal sink and toilet.
Price Per Night (excludes tax)
$225
Included in your stay
A Full, Hot
Gourmet Southern Breakfast
"Born and raised in Louisiana, I understand the true meaning of Southern hospitality – and the importance of delicious food!
Leave continental behind – breakfast at the Inn is an event: home-made specialties such as quiche, breakfast casseroles, and fried grits are complemented by fresh fruits and juices, and Beaufort's best coffee – imported from Louisiana."
See what our guests are saying…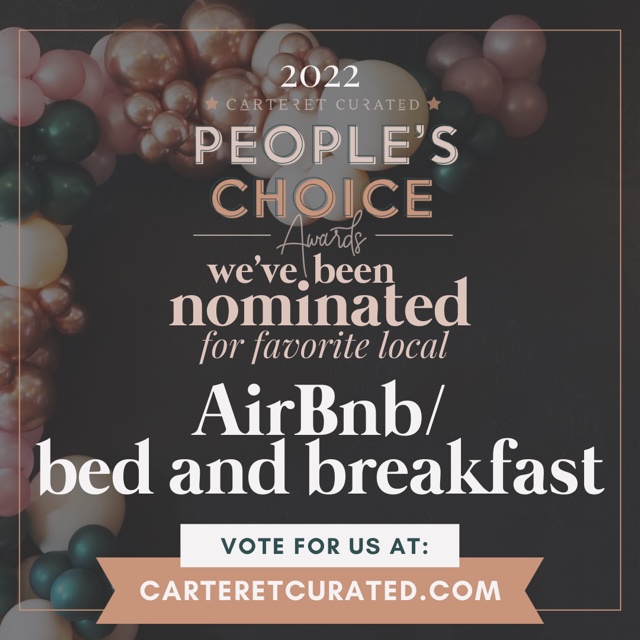 The Ann Street Inn was simply sublime! I loved the old architecture of the home and the beautiful decorations. Owners Donna and John made our stay so comfortable and entertaining too. The delicious Louisiana style breakfast and interesting conversations with the other guests was certainly a highlight of our stay. The upstairs guest room opens up to a fabulous porch great for early morning coffee and reading a book. If we ever get back to Beaufort NC, I know where we'll stay. 
Beautiful historic & comfy home-away-from-home, delicious breakfasts & a warm, personal welcome by the owner. Enjoyed the rockers on the upstairs porch and being within walking distance to the waterfront.
The Ann Street Inn bed and breakfast exceeded every expectation. It's a charming property along North Carolina's Crystal Coast. The home and room was spotlessly clean and every inch is tastefully decorated. The meals are a southern treat and should not be missed. The highlight of my mornings and evenings were sitting on the porches and people watching as a I read while sipping on a drink. There's plenty of free parking. It's in a safe central location that is within walking distance of everything.
Donna is a great host and her Inn is beautiful. Extremely comfortable beds and great decor. We will definitely stay at Ann Street Inn the next time we spend the night in Beaufort.
Full Gourmet Southern Breakfast
Enjoy our true southern hospitality with a lovingly-prepared hot breakfast.
We're also vegan friendly!
Free WiFi
It's nice to take a break from online, but if you need to check in, there is wi-fi available.
Free Parking
No paid parking here! We have free parking for our guests.
Shared Kitchen
Coffee Maker, Refrigerator, and Ice Maker are available for guests in the shared kitchen.
Go Kayaking
Kayaks are available for use of our guests. Go kayaking in Taylor's Creek.
Go Cycling
Bicycles are available for the use of our guests. Ride around to go shopping and see the sites.
Golf Cart Available
Ask about the golf cart we have available for our guests. If you would like to reserve the golf cart during your stay, please contact the Inn either when you make your room reservation or after you've made your reservation.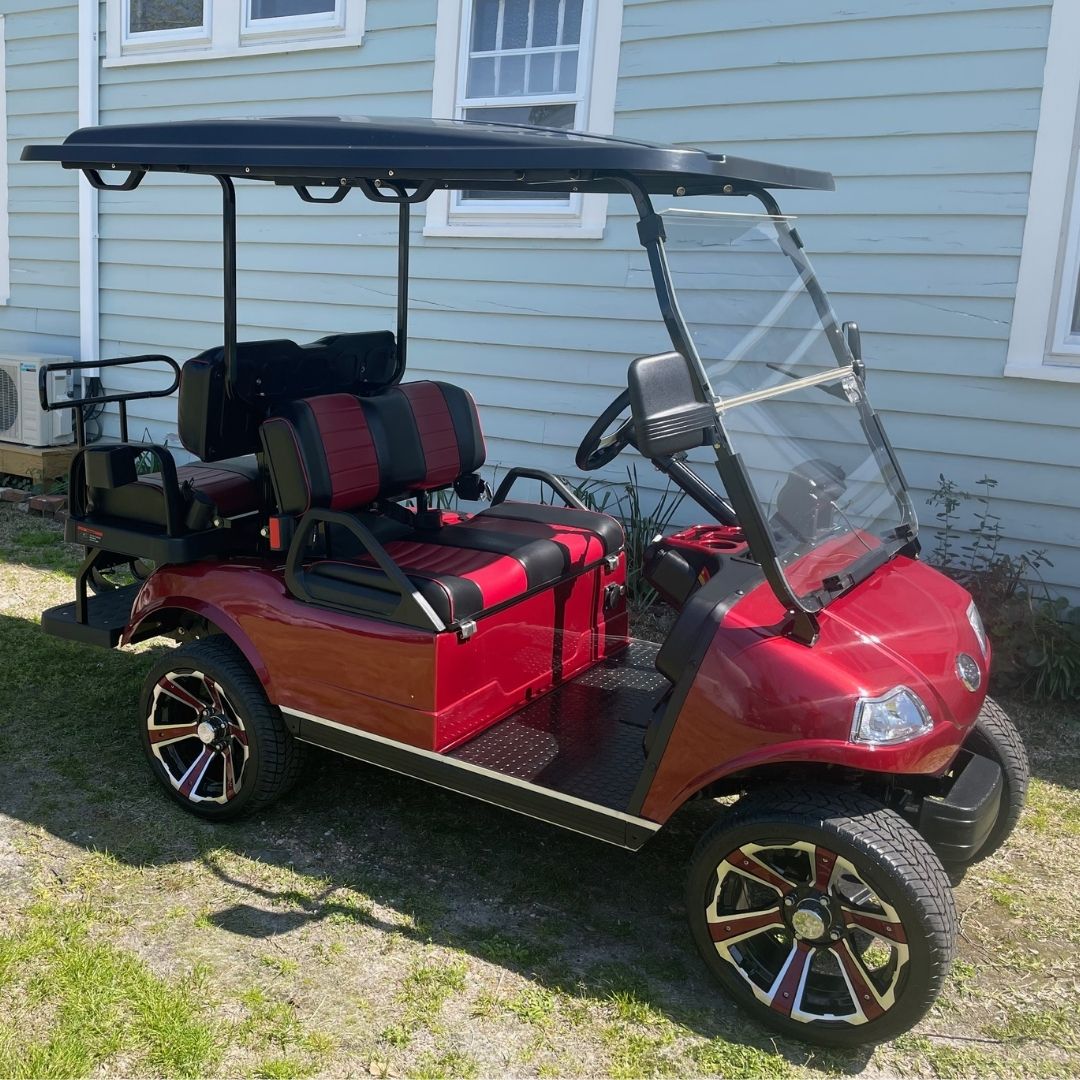 Check-in & Check-out
Check-in is at 3pm, or by special arrangements. Check-out is at 11am.
Cancellation Policy
There is generally a 7-day cancellation policy with a full refund minus $25. Multi-room bookings and 4+ day reservations require 15 days notice.
House Rules
No smoking indoors. No Children Under 12. No Pets Allowed.