The Ann Street Experience
Ann Street Inn bed and breakfast was featured in one of the Guardian's travel articles about the North Carolina coast. You can read the article by clicking here
We are conveniently located in the center of downtown Historic Beaufort, NC. The Ann Street Inn bed and breakfast is a short, one block walk from Front Street and the Beaufort Inlet waterfront. Filled with whimsical shops, casual water-front cafes, world-class restaurants, and venues that feature live music late into the night, Front Street literally provides "something for everyone".
Interested in history? Just stroll down Ann Street, past historic homes and beautiful gardens, to visit treasures such as the Old Burying Grounds and the Beaufort Historic Site, with its authentically restored homes dating back to the 18th century, and buildings such as the Old County Jail (c. 1829) or the Apothecary Shop (c. 1859). The North Carolina Maritime Museum is just a few steps further, on Front Street.
When it's time to come home, you can choose between relaxing in your own antique-filled room or on one of the Inn's two wide front verandas, open to refreshing breezes and overlooking the leafy green beauty of Ann Street. We use Young Living, Thieves household cleaning products. It's a green ecologically friendly plant-based cleaner containing thieves and lemon YLTG quality essence oils. Because it is free of harsh chemicals it is safe for use around children and everyone!
We also have an award-winning garden and sitting area out back: a tranquil setting that provides even more peace, quiet, and privacy. You can nap, read, or enjoy a complimentary cocktail or glass of wine as the sun sets.
Come enjoy the ultimate in relaxation and leave your worries behind. Feel the breeze, hear the birds, enjoy the sun and let us show you what Southern Hospitality is all about.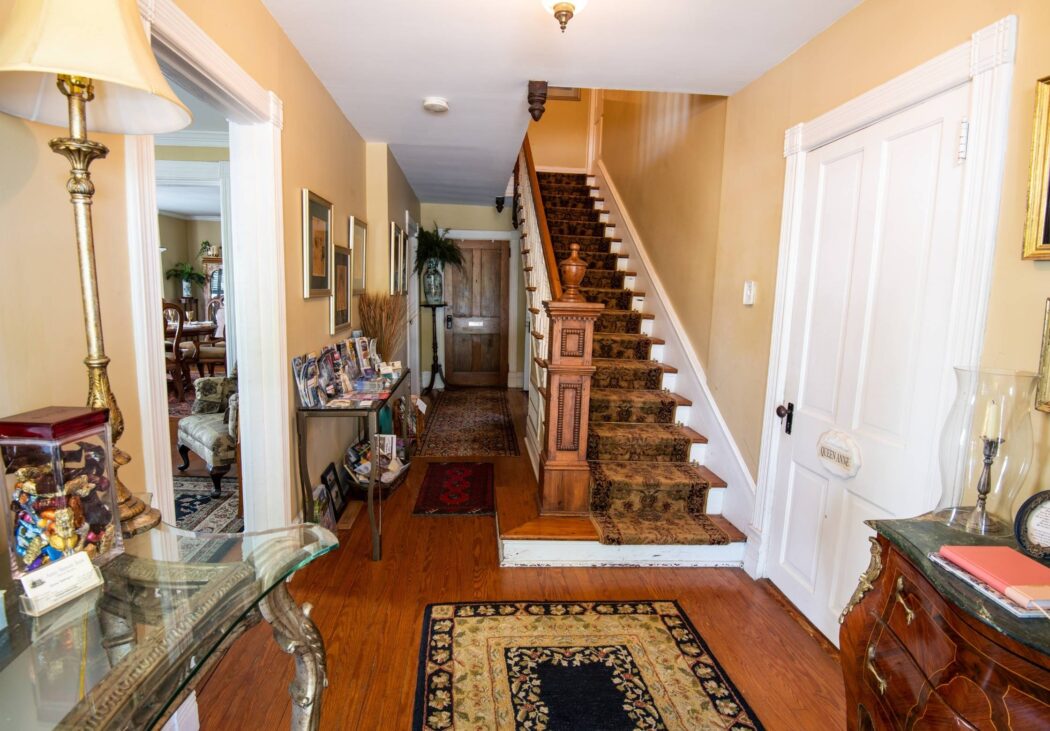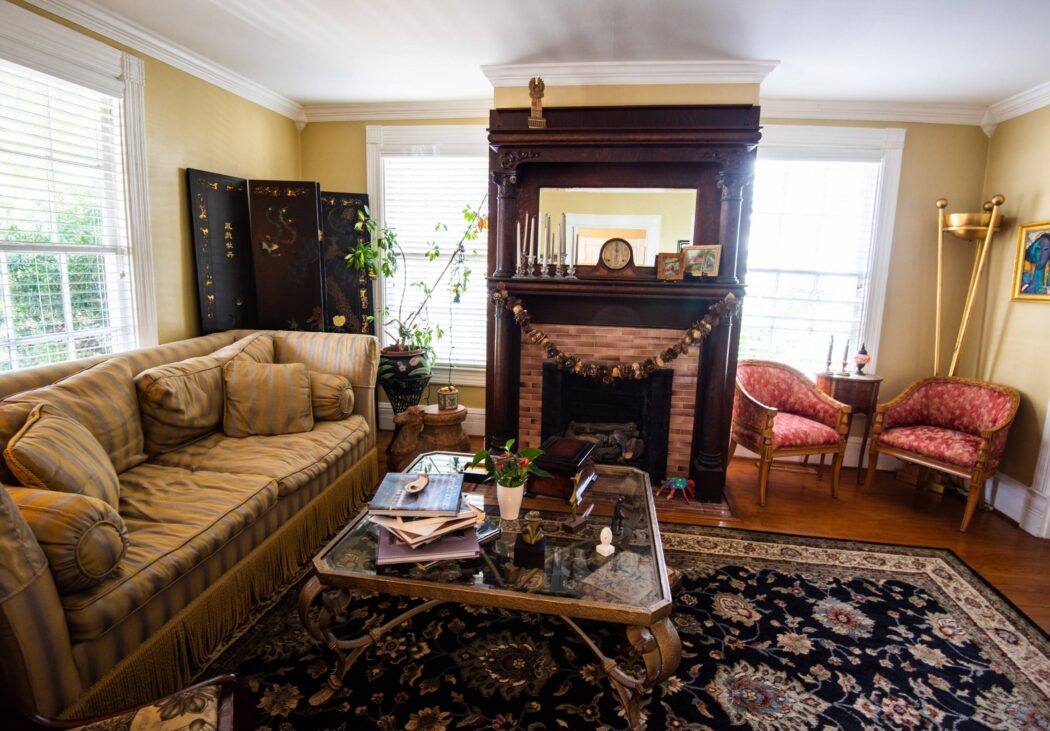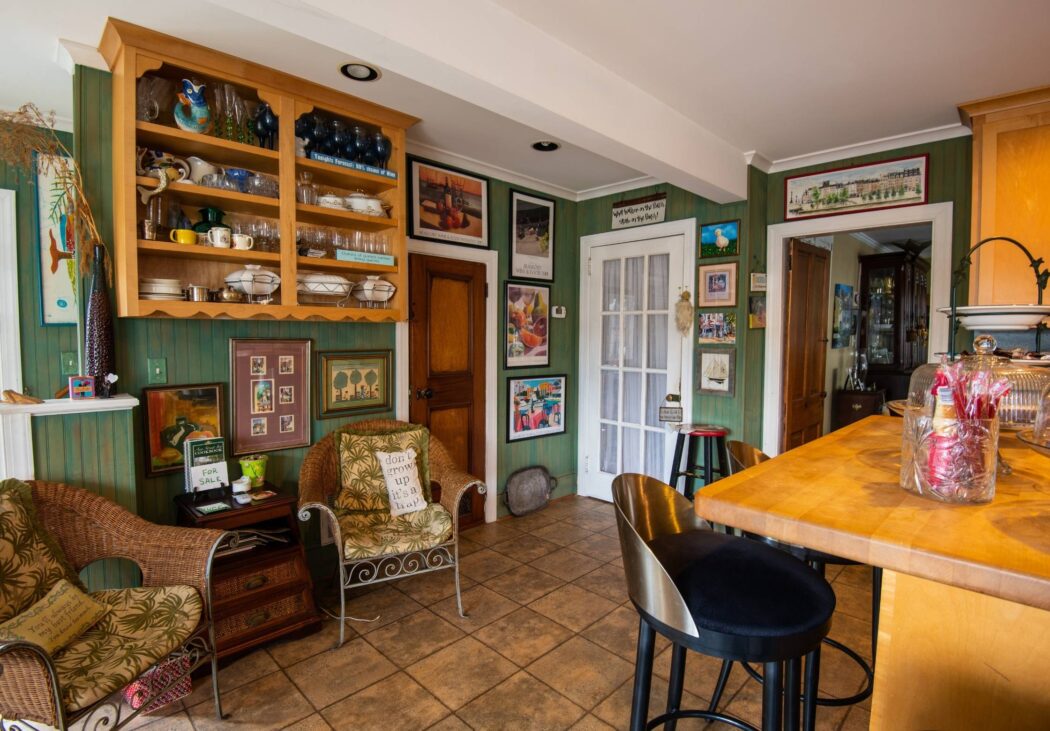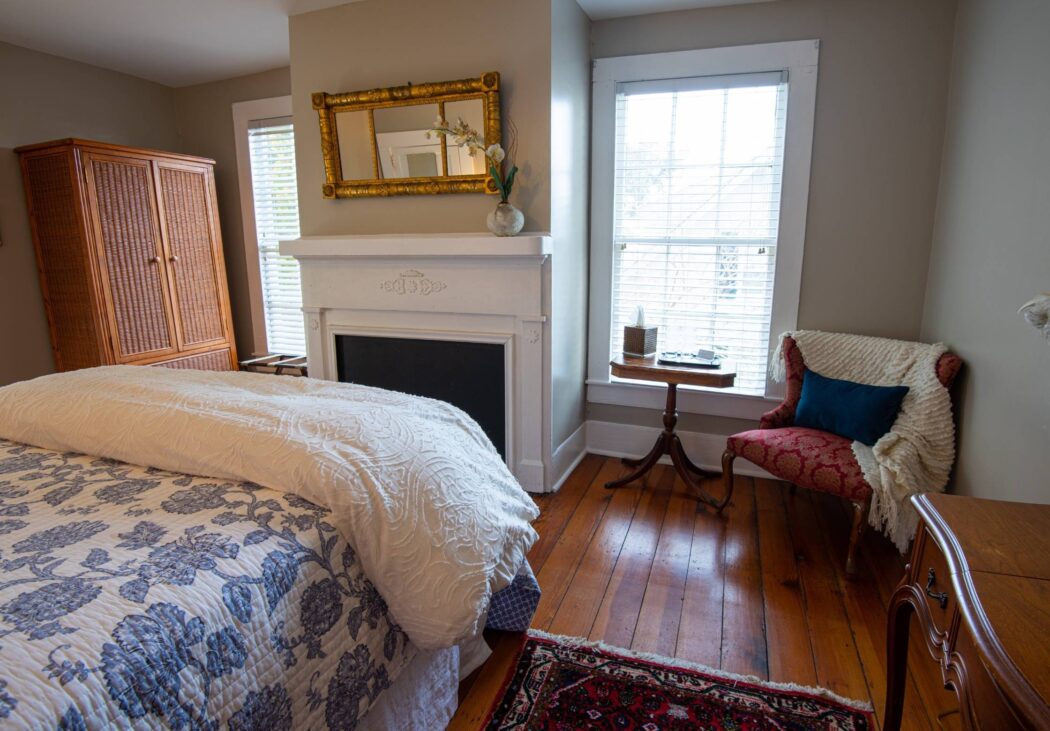 The Ann Street Inn is housed in a beautiful, historic two story home that was built in 1832 by William Jackson Potter. 
The following is a brief summary of the construction and historic ownership of the home, now known as the Ann Street Inn, written by local artist, historian, and author Mary Warshaw. It is printed here with her permission as an excerpt from her book Historic Beaufort North Carolina: A Unique Coastal Village Preserved.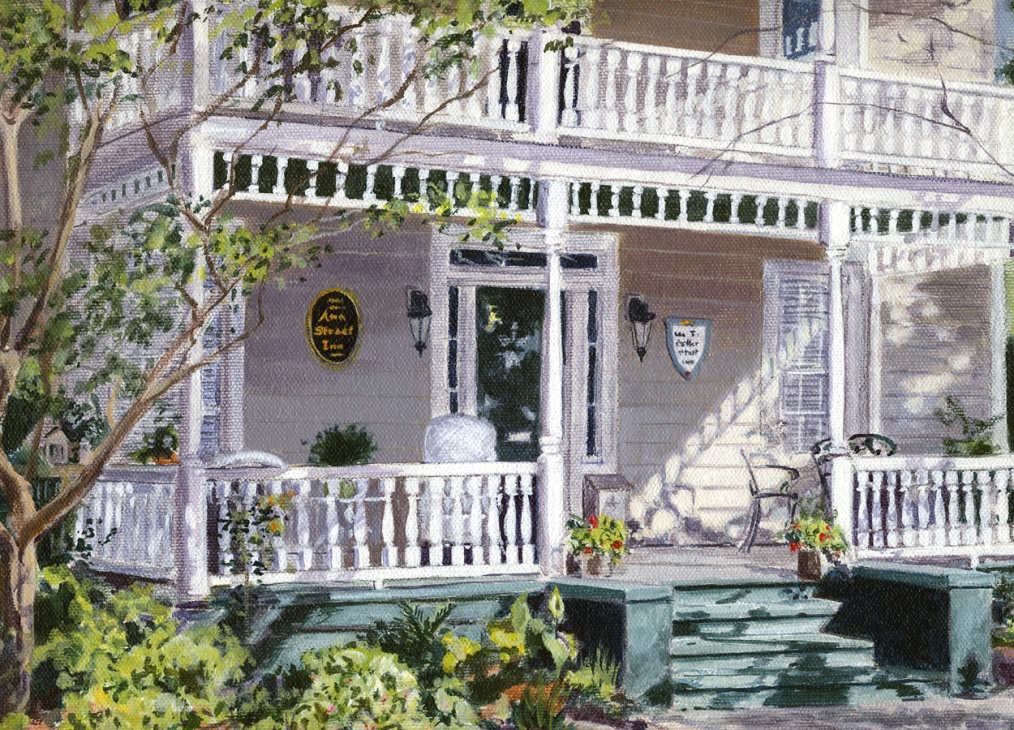 WILLIAM J. POTTER HOUSE
circa 1832 – plaqued
By Mary Warshaw
In 1827, William Jackson Potter (1801‒1886) came from Anne Arundel, Maryland to work as a brick mason during the building of Fort Macon. In 1828, he married Elizabeth Harris Davis (1810‒1904), daughter of James Davis and Elizabeth Adams.
From 1828 to 1835, William Potter supervised the building of a new jail and the Taylor Masonic Lodge (later the Odd Fellows Lodge); after work at the fort, Potter and others built these by torchlight.
Potter was postmaster from 1840 to 1847, and 1853 to 1862, commissioner from 1847 to 1853, and was involved in forming St. Paul's Episcopal Church.
William and Elizabeth's children: Stephen Van Buren Potter (1829‒1850) attended West Point; Mary Elizabeth Davis Potter married Robert Withers Chadwick in 1854; William Wicker Potter died at 15 months; Ann C.D. Potter died at 28 during the 1864 yellow fever epidemic; Sarah Diana Potter married Benjamin J. Bell in 1866; Susan N. Potter married Henry J. Buckman in 1872; Drucilla Davis Potter married Hezekiah Hall Willis in 1882; Lewis Alexander Potter married Ella R. Fish about 1870; James Hollister Potter married Nancy Bell Murray in 1871; and Ella Jane Potter (1851‒1896) never married.
For 91 years, this was home to James Hollister Potter Sr. (1847‒1938) and Nancy Bell Murray (1846‒1922). A seafood dealer, James was also involved in real estate; he helped finance the Post Office and Custom House on Turner Street, and the Potter Building on Front Street, which burned in 1958.
James and "Nannie" Potter's children: Thomas R. Potter (1871‒1880); Halbert Lloyd Potter (1872‒1965) married Etta Perry Davis; James Hollister Potter, born 1874, died at 8 months; William Van Buren Potter (1875‒1962) married Zylphia Cox Darden; Guy Dill Potter (1877‒1953) married Martha Thomas; James Hollister Potter Jr. (1879‒1971) married Ada Matilda Rhodes; Louis A. Potter (1880‒1881); twins, Alice Murray Potter and Hettie Dill Potter, born in 1882, lived a short time; Edward Hartman Potter (1883‒1956) married Alma C. Russell; Nannie Murray Potter (1884‒1979) never married; and Jack Potter (1886–1887).
1997 Survey: 2-story, 3-bay, side-gable house has plain siding, boxed eave returns, 2 large interior end stuccoed chimneys, and 6/6 sash. 2-story front gable porch with turned posts, spindle frieze, and turned railing. The present appearance dates from a late-19th century remodeling, which added the porch and possibly reworked the entire exterior.